ProcessingMachining

(Cutting process)
We provide machining processing service of hi-precision ceramics parts.
Machining
Many experiences of making ceramic parts by machining.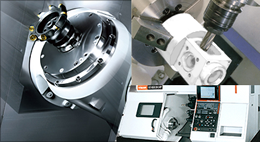 Our company, KDA has had many experiences of manufacturing by various machines and materials since 1969 of the establishment.
Now we have more than 50 NC-machines, machining-centers, lathes, milling-machines, lapping-machines etc. And we do cutting and grinding to ceramic materials, and make many ceramic products.
Strong points of KDA's ceramic machining services.
High Precision

 Realize high precision ceramic parts.

If need high precision ceramic parts, we recommend our cereamic machining services. For example, in case of more than 1/100, we recommend this method.
Short Delivery

 From 2 Weeks to 1 Month.

Depends on our situation of orders received, generally our shipping is after 2 weeks to 1 month.
Small lot

 Accept One piece, Small lot, Prototyping.

We accept small lot and prototype. Hearing your test or use environment, we recommend material, shape and processing method suitable for it.
Various materials

 Alumina, Zirconina, SiC, AlN etc.

We are handling various ceramic materials contain machinable glass-ceramic. Showing several primary materials in the below.
Ceramic Materials used in Precision Machining services.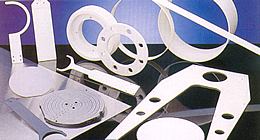 Alumina is a representative of most well-known ceramics materials. And the characteristics are superior mechanical strength, heat-resistance, wear-resistance, thermal conductivity, high frequency property etc.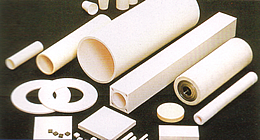 Zirconia is most superior ceramics in mechanical strength and toughness, for example the fracture toughness is 3 or 4 times of Alumina's. It's used as a heat insuration block, guide spacer, nozzle, pump parts, parts mating to metal etc.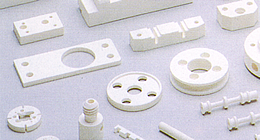 Machinable ceramics consists of cleavage mica and boron nitride etc. distributed evenly in a glassy matrix. They are superior in next characteristics; cutting, electrical insulation, pricing, short delivery term.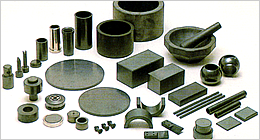 SiC is high strength, excellent in heat resistance and abrasion resistance. So it's used as structural materials in high temperature.
And it has good thermal conductivity, creep resistance, acid resistance. Application : Plate of semiconductor manucacturing equipment, Chuck, Surface table etc.
AlN has excellent characteristics under high temperature; mechanical strength, thermal conductivity, high young's modulus, low thermal expansion etc. It's used as electrical parts needed heat radiation, insulation etc.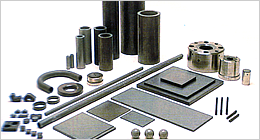 SiAlON is excellent in heat resistance and hardness, and even in high temperature, is excellent in strength, thermal shock resistance, abrasion resistance etc. Application : Hot guide, Roller, Positioning pin, Die-cast sleeve, Location ring of electric welding etc.