Processing
Molding
Various molding services to meet the needs for mass production of ceramic parts.
Molding
Various technologies of Ceramic molding.
| | |
| --- | --- |
| Press molding | Inject ceramics slurry materials to a mold, compress and fire it. Features: suitable for mass-productions of simple and high precision shapes. |
| Extrusion molding | Extrude ceramics paste to a die (mouthpiece), and get shapes of which section is circle, polygon, pipes etc continuously. |
| Tape molding | Makes Alumina thin plate for IC substrate etc. |
Products
We deal in general ceramic materials such as Alumina (Aluminium Oxide) and Zirconia (Zirconium Oxide). And deal in Steatite, Cordierite and Forsterite etc too. We make shapes from these ceramics powder, fire them and complete.
General ceramic electrical parts
Use the electrical insulation in high thermal environment and the high frequency property, makes ceramic parts which is superior to mechanical strength, thermal-shock and wide-use.
Ceramic Precision parts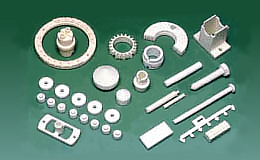 For making precision parts (precision jig, mechanical sliding parts etc), it is needed high accuracy dimensional technology. So we do cutting process by machine after molding, and after firing, do grinding or polishing.
Semiconductor Ceramic parts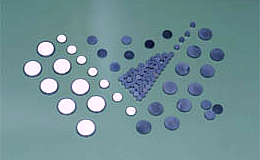 These are usable widely as IF circuit or HIC of various electrical equipments.
Ceramic thin plate printed circuit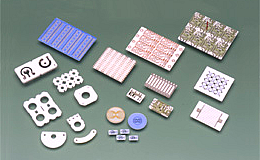 A printed circuit board is made by pressing or tape-forming a thick film board, printing various metal pastes on it, and sintering it. These are used for HIC, various resistance boards, heater boards, etc.
Grass seal component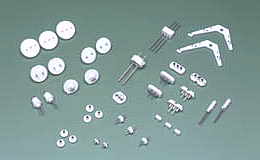 Seal and bond ceramic and metal using glass. It can be used for a wide range of electronic tubes, stems such as heaters, and various airtight terminals.